Here's a quick glance at some of the diverse and wonderful activities that Youth-SHINE has been providing. Our participants can look forward to enjoying our weekly activities that include everything from local sports to our very popular 'Summer Residential'.
Origami is the art of paper folding. It puts an emphasis on precision and accuracy but it's easy and adaptable for every age range.
We all know that we all need to get more physical exercise but good habits are often established in our childhood. At Youth-SHINE we want our girls to be their very best so physical fitness is an important part of being at your very best..
At Youth-SHINE, we feel it's important that our girls have a solid sense of their own identity and gain the background and skills to build their own character based on their shared heritage and history. Islamic art is a fascinating and engaging way to strengthen their identity and continue building on the legacy they have inherited.
Our Summer Residential camp was a resounding success. We had ? participants and they spent their time doing archery, climbing, water sports supplemented with personal development workshops. Our all-female staff were on hand to help the girls get the most out of this unique opportunity.
.At Youth-SHINE we try to cater to all the different strengths and abilities that will help our girls to really thrive. For the more creative members of our groups, we encourage them to express their artistic abilities in a variety of different way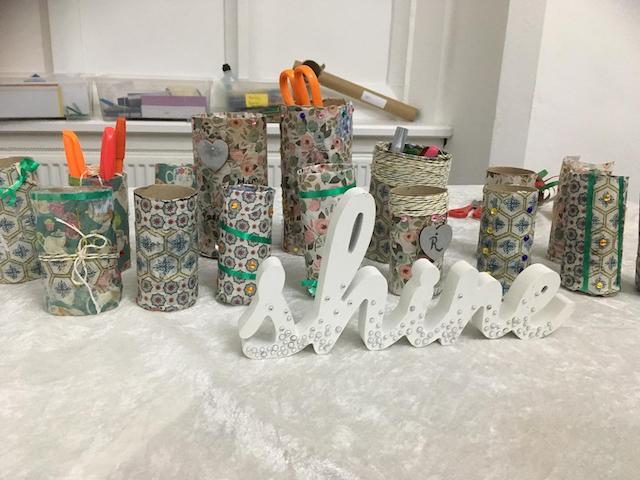 Enhancing creativity helps the girls in every aspect of their personal growth regardless of their own personal inclinations. Exploring their artistic side resulted in some very impressive decoupage projects.
It's not often that you see hijabs on the tennis courts so for some of our girls, this was the first time they had a chance to participate in a discipline that is a celebrated and famous British sporting event.
Our focus at Youth-SHINE is on empowerment and engagement and our role in our local communities is something that we take seriously and promote conscientiously. We work with various local charities to help nurture a sense of social responsibility and cohesion within our participants.
Team sports, such as football, are great ways to teach cooperation and the importance of team work. Not only as a group dynamic but also in terms of learning leadership skills, communication and self-esteem. All too often girls are left out of team sports but not at Youth-SHINE!
LET youth-SHINE Empower YOU!
Adventure
Youth-SHINE aims to empower Muslim girls to engage in new activities by challenging them to push themselves outside of their natural comfort zone.
Through Youth-SHINE's residential excursions, they are able to participate in adventurous sports and activities, such as archery and rock climbing
Confidence
Our Manchester girls group is run by women for women in order to give girls the opportunity to express themselves through various avenues such as art, sports, public speaking and charity work.
This confidence will help them to not only make their voices heard now, but embolden them in pursuing new and exciting opportunities in the future.
Teamwork
Every week, in both our activity and learning sessions, the girls are strengthening their teamwork skills and learning the value of shared teaching and learning.
We hope to show them how to work as part of a team – both as leaders and as valuable contributing group members.
Prepared with these skills, we hope that they will use them in every facet of their future interactions both personally and professionally.
Friendships
Youth-SHINE works across the Greater Manchester area and our attendees come from a wide range of backgrounds and ethnicities.
Our Youth-Club brings together girls with different talents and strengths in an interactive environment with the aim of encouraging understanding and tolerance.
We hope our girls will be able to build lasting friendships and form bonds that will strengthen them socially and spiritually, helping them to with empathy and compassion to benefit their communities.
MO

TU

WE

TH

FR

SA

SU
27

28

29

30

1

2

3
4

5

6

7

8

9

10
11

12

13

14

15

16

17
18

19

20

21

22

23

24
25

26

27

28

29

30

31
1

2

3

4

5

6

7
Events for December
1st
No Events
Events for December
2nd
No Events
Events for December
3rd
No Events
Events for December
4th
No Events
Events for December
5th
No Events
Events for December
6th
No Events
Events for December
7th
No Events
Events for December
8th
No Events
Events for December
9th
No Events
Events for December
10th
No Events
Events for December
11th
No Events
Events for December
12th
No Events
Events for December
13th
No Events
Events for December
14th
No Events
Events for December
15th
No Events
Events for December
16th
No Events
Events for December
17th
No Events
Events for December
18th
No Events
Events for December
19th
No Events
Events for December
20th
No Events
Events for December
21st
No Events
Events for December
22nd
No Events
Events for December
23rd
No Events
Events for December
24th
No Events
Events for December
25th
No Events
Events for December
26th
No Events
Events for December
27th
No Events
Events for December
28th
No Events
Events for December
29th
No Events
Events for December
30th
No Events
Events for December
31st
No Events